It's 2 pm and you've hit the workday slump. Or you've just come back from your morning jog and need a refresher. For those looking for a natural alternative to the energy boost of sodas, coffee and energy drinks, juicing is the way to go. You get all the energy, without the added sugar and caffeine.
#1 Simply Spinach and Fruit
This one's quite simple and refreshing. Take a handful of spinach, two oranges and a whole sliced apple and voila! Apples are year-round fruits, but if you want the freshest oranges, you'll have to wait for winter and spring.
Remember, you can make every juice your own. Don't fret if you want to add some extra fruit to make it sweeter.
Ingredients:
Handful of spinach
2 peeled oranges, peeled
1 whole apple, sliced
#2 Midday Melon Juice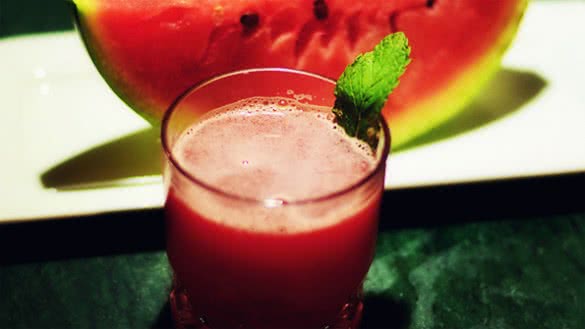 source (via guruscooking.com)
If you do like sweetness, then this one's for you. This juice recipe by Jason Vale is packed with vitamin A and C, folic acid and magnesium. Because it's loaded with water, it'll give you the hydration you need to look and feel alive as you go about your day. Check out what you'll need to make this melon-berry concoction.
Ingredients:
½ small watermelon, flesh only,
2 pomegranates, no seeds
¼ peeled lemon
100 grams of raspberries
#3 Mean Green Juice
You can't help but feel healthy with this one – but you can't be afraid of a little green. This is juice blogger Joe Cross's favorite, and we're sure you'll like it too. To make the Mean Green, here's what you'll need:
Ingredients:
1 cucumber
4 celery stalks
6-8 kale leaves
½ lemon
1 tbsp of ginger
2 apples, sliced
You'll quickly notice that several of the recipes call for similar ingredients (apples, lemons), so feel free to experiment and make some new juices of your own!
#4 Beet Juice Energy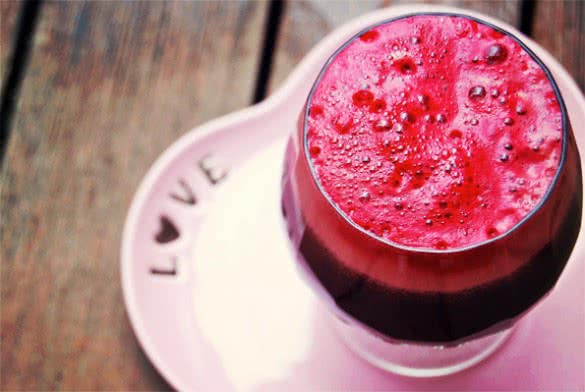 source (via weheartit.com)
This natural juice can not only boost energy, but it can also help lower blood pressure and build cancer-destroying cells. And, you guessed it, it's PINK! This recipe requires a few more ingredients than the previous ones, but with those health benefits, we say it's worth the extra minutes. Plus, check out all the repeated ingredients in this one!
Ingredients:
4 beets
5 carrots
2 heads romaine lettuce
1 large handful parsley
2 apples (repeated)
1 pint strawberries
1 inch knob of ginger (repeated)
1 cucumber (repeated)
1 grapefruit
1 lemon (repeated)
2 tangerines
1 large bunch of mint
#5 Road Runner
This recipe from Just Juice gives you the energy you need to make it through your daily jog… and more! With a simple three ingredients, this natural juice is one we recommend just before you need to power up. The vitamin B and C in the red cabbage will keep your energy levels up, while the alfalfa sprouts give you a dose of antioxidants. Top it off with some cucumbers and some optional grapes for a little refreshing sweetness.
Ingredients:
1 cup of alfalfa sprouts
1 whole red cabbage
2 cucumbers
5 grapes (optional)
#6 Lychee Energy Upper
This fruity juice from health expert Linda Brown will have you up and at 'em in no time. Also with three simple ingredients, this one's great if you're on the go. The electrolytes in the coconut water are an added bonus, but if you don't have any in your fridge, don't sweat – water will do the trick.
Ingredients:
1 20-oz can of lychees in syrup, drained and rinsed
1 cup of thawed peaches, sliced
¾ cup of coconut water
What's best about natural juices is that it doesn't take a complete lifestyle change to incorporate it into your daily routine. You can drink them just because or as an alternative to meals, and they're packed with vitamins, minerals and lots of taste. All you need is an 8 oz glass (or water bottle for Queens on the go!) to boost your energy and get your day going.